When:
February 17, 2019 @ 12:00 pm – 2:00 pm
2019-02-17T12:00:00-01:00
2019-02-17T14:00:00-01:00
Where:
St. Sahag Armenian Church
203 N Howell Street
PARISH ASSEMBLY
Sunday, February 17th, Noon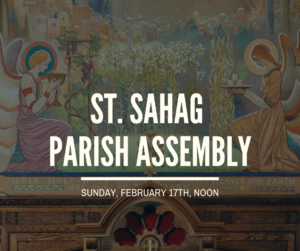 The Annual Parish Assembly will report on 2018's events and progress and set the direction for the coming year. As we are required, we will conduct elections for open offices and be presented with reports by our church organizations.
We no longer will be following the practice of dues-paying membership.
Members of St. Sahag Armenian Church are baptized Christians, communicant faithful of St. Sahag committed to incorporating our Lord's teachings in their lives, and have made a monetary gift to support the parish.
Please make an effort to come and hear about the progress of your church in 2018 and voice your opinions about its direction in 2019.
We hope to see you all at the Assembly.